Continent: Asia
Country: Egypt
Geographical location: Middle East, Sinai Peninsula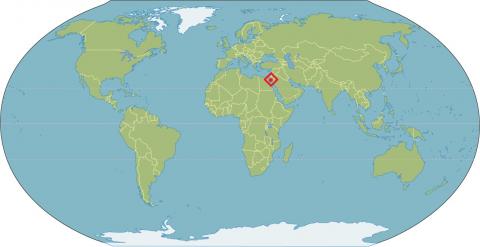 Dahab lies on the Sinai Peninsula, located on the west coast of the Gulf of Aqaba, between Nuweiba and Sharm el Sheikh. The mountainous interior of the Sinai rises steeply from the coast of the Red Sea, leaving only a narrow strip of land between mountains and water. It is this terrain which ensures the thermal air streams funnel down between the naturally eroded hills and valleys, producing the famous year round winds. With a relatively short flight and 80 minutes transfer to your hotel, it is possible to enjoy the magical conditions, the day you arrive.
As Dahab is overall not too touristy, you will experience the traditional Egyptian lifestyle, atmosphere and pace of life. Dahab is a charming seaside village full of restaurants and welcoming locals. You can reach it with a few minute taxi ride - usually in the back of a pick-up truck or jeep!  Dahab consists from small districts, Masbat and Assala are some of them.
In Masbat: The colourful lighting and hippy chic styling makes hanging out downtown a pleasure. The restaurants are fantastic with a very friendly atmosphere. A truly cultural experience unique to Dahab, that sets it a world apart from other Red Sea venues. There, you will also have an opportunity to browse the numerous bazaars. Don't forget that to bargain on price is accepted so relax and enjoy looking at the process.
In Assala: You will feel really far away from modern civilization when you spend a night in the traditional Bedouin tent or, if you prefer, right under the stars. These starry skies, the unique wind conditions, the local hospitality and many other attractions are definitely not to be missed. Famous fruit market is located out there.
Possible no-wind activities:
Dinner at one of the numerous restaurants in Masbat and Assala
A visit to St. Catherine's Monastery and a climb up to Mt. Moses.
Snorkeling at the well-known reefs or you can go to superb deserted beaches and snorkel at the countless reefs around Dahab. 
 Dahab - one of the popular places in the world to carry out dives. Visibility under water 20-30 meters. Red Sea water temperature does not drop below 20 degrees. In the vicinity of the order of 20 Dahab dive sites. Under thewater you can see coral bizarre shapes and fish a variety of colors and sizes.
A ride through the desert (on a camel or on horseback).
Quad bike safaris.
Sailing Spot & Conditions
Dahab is very special place in Egypt, as it offers three different sailing areas:
 The "Lagoon" is a protected bay, with a large area of standing depth water. Best place for beginner riders and intermediate sailors. The "Lagoon" is good for beach start, harness, planning, water start and even jibe lessons! (Surf shoes recommended.)
Kitesurfing in the "Lagoon" is prohibited. However, there is a special lagoon area  marked for kitesurfing where beginners can receive instruction and make their first rides in shallow, safe conditions. Happy-kite centre is located out there. 
Around the "Lagoon" you will find the "Speedy": a perfectly flat water area for advanced windsurfers. The wind blows constantly and is a bit stronger than inside the "Lagoon". The "Speedy" ends with the "Baby bay" – very famous place among freestyle riders. A Rest & Rescue island available in the "Speedy" forshort break or calling for rescue if necessary. 
The third area is behind the Napoleon Reef – the "Kamikadze". The swell is up to three meters high in a windy day (no breaking wave), thus creating fantastic jumping conditions. Every sailor going onto the "Kamikadze" area is issued with personal walkie-talkies or mobile phone to keep in touch with Vetratoria's personal rescue boat.