Vetratoria Windsurfing & SUP is official RRD test centre. With us you can try the latest collection of windsurf boards and sails of RRD, as well as SUP boards and kiteboarding at our Happy Kite centre.
Firemove
Wide Body Freemove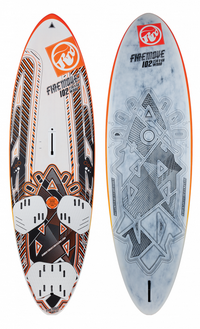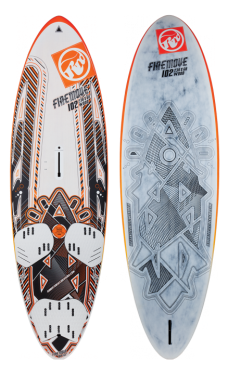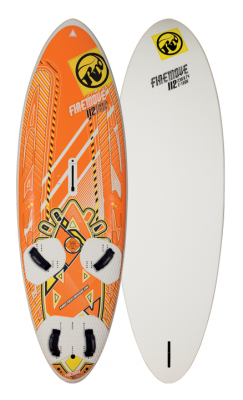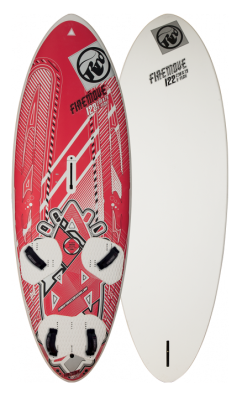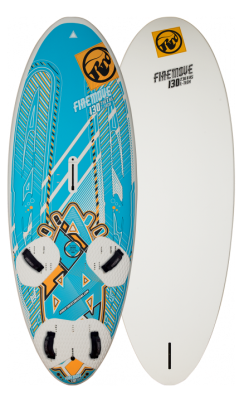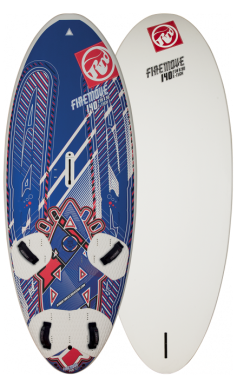 The most contradictive design in RRD windsurfing collection has conquered the heart of many passionate windsurfer in last two years since its first launch on the market. It now ranges from being a super early planer & easy jiber to a pure hi wind controlled bump & jump board with a definite attitude to reach top level speeds. Rig a wave sail and you can still plane quickly and manouver like on a freestyle wave board, use a freeride or a two cam sail, and off you go. Full blast at top speed, keeping the same track of those freeriders around you. A fantastic free feeling that makes you think "can I wave ride this board "or "can I go as high upwind as those slalom sailors?", then try this to make you happy…!
Firemove, Volume, Lts.        102           112         112          122           130         140     
Size (cms)                            238×68       238×74      238×74   238×79    236×85     238×90
Recommended Sail Size     5.2 – 7.2     6.0 – 8.0    6.0 – 8.0     6.8 – 9.0     7.2-9.5     7.5-10
Firewave
Making each wave rippable Fast Wave board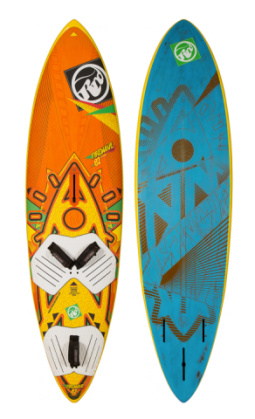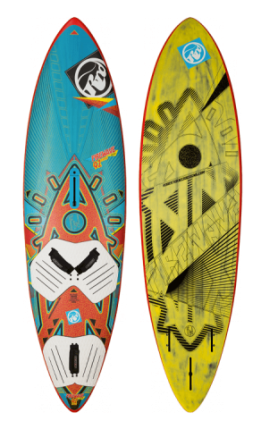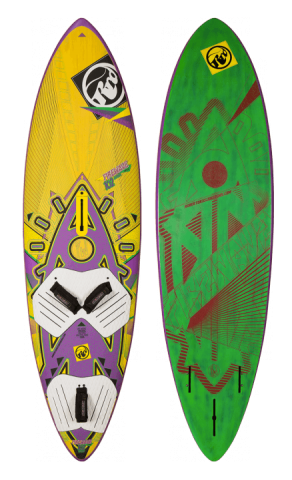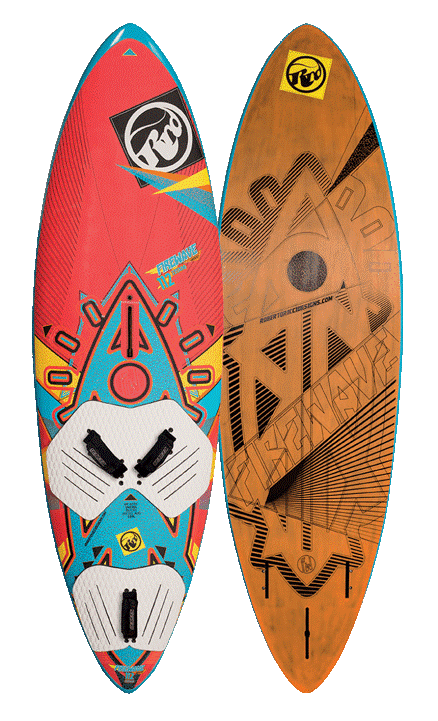 When you think you have tried all the possible wave boards shapes, you will wake up one day and be able to try one of the new boards in the RRD collection: THE FIREWAVE. It's really fast, quick to plane, and accelerates like a freeride board, yet it turns smoothly and precisely on the face of any waves.
All the FIREWAVE boards are equipped with a 3 fin setup designed exclusively by Maui Fin Company for RRD. They create a great drive in the turns on the wave, but also a quick planing capacity and fantastic control at hi speed. With FIREWAVE you can increase the amount of times you can use a wave board when the conditions are marginal, then you will also have a faster, better planing board when trying to get back out through the surf, and you will also be able to carry more speed through both your back and frontside turns.
Firewave, Volume, Lts. 82 92 102 112
Size (cms) 233×60 234×62 235×64 235×66
Recommended Sail Size 3.7 to 5.3 4.0 to 5.7 4.5 to 6.2 4,7-6,7
Firestorm
Fast Freeride / Free Race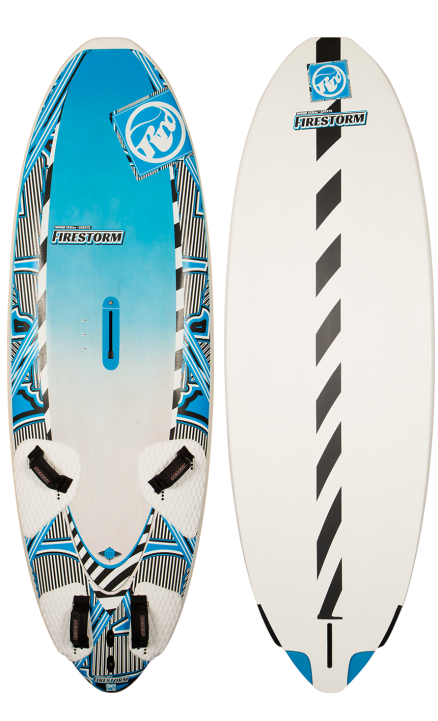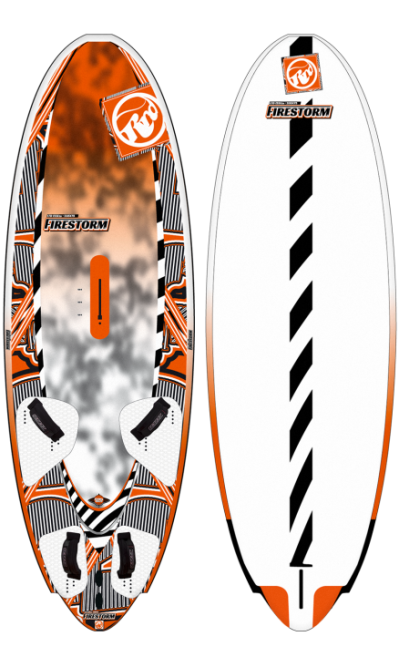 Originally designed and trimmed to combine early planning, speed, control and easy jibing, the new Firestorm line has been completely re-considered not only in terms of shape and details, but mainly for its program of use.
FireStorm, Volume , Lts. 112 123 123
Size (cms) 235×70 235×75 235×75
Freestyle Wave
Freestyle Wave Pro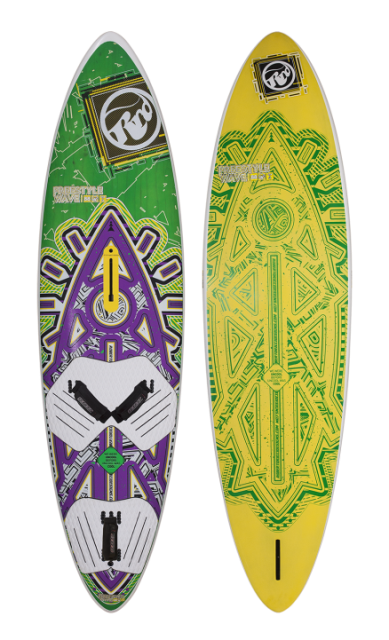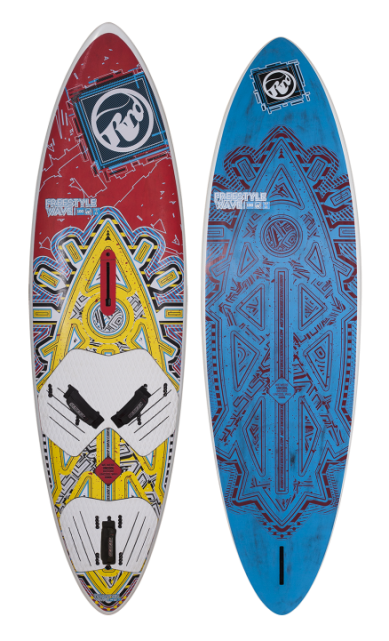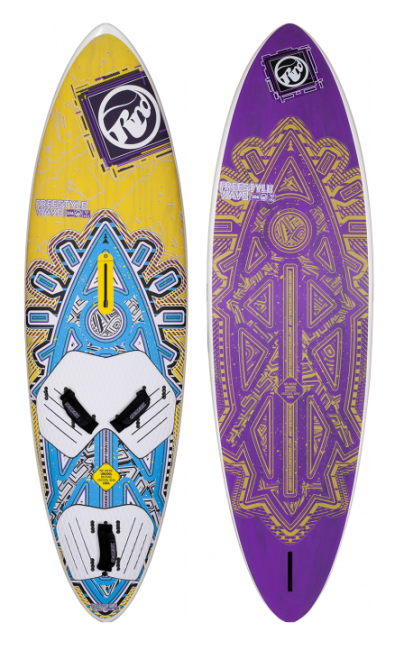 As the trend of wave boards shapes keeps going towards multifin hulls, RRD preferred to retain a "classic", reliable and fast planing single fin board line that would be suited for those who wish for a "do it all" type of short board.
Freestyle Wave, Volume , Lts. 88 100 106 106
Size (cms) 234×59 237×63 237×64,5 237×64,5
Recommended Sail Size 4.0-6.2 4.5-6.7 4.7-7.2 4.7-7.2
TwinTip
Freestyle Pro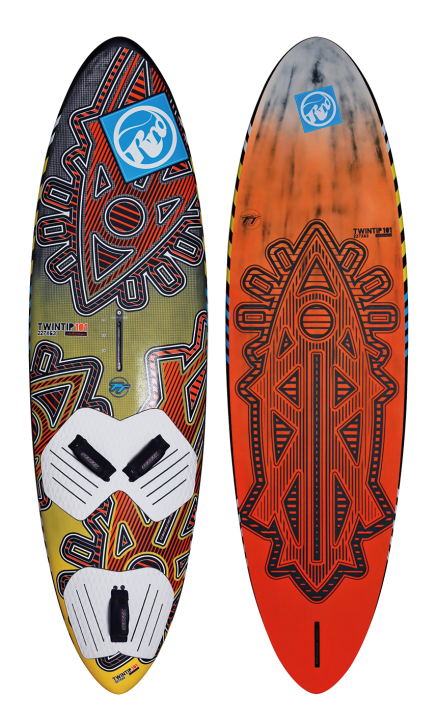 The Twin Tip is RRD's pure blooded long running and highly popular Freestyle Board line. As the new school style keeps progressing RRD want to make sure that this shapes follow the latest trends and deliver pure performance support to serious freestyle riders!
"Anything is possible" with the New RRD Twin Tips.
X-Fire
Slalom / Race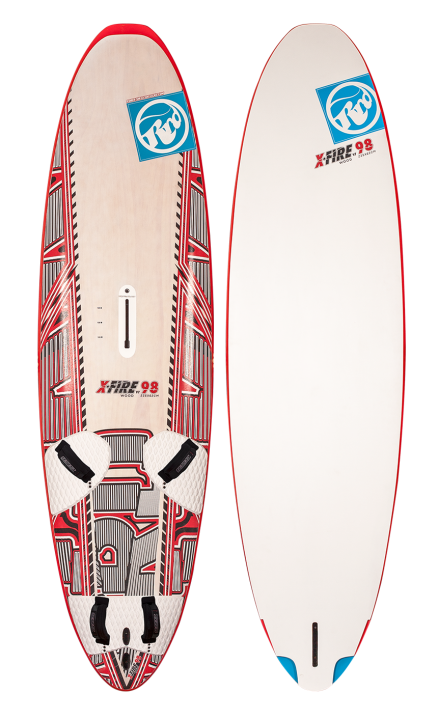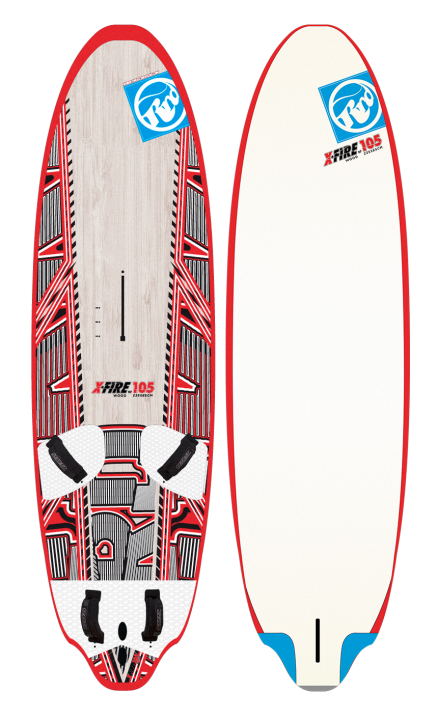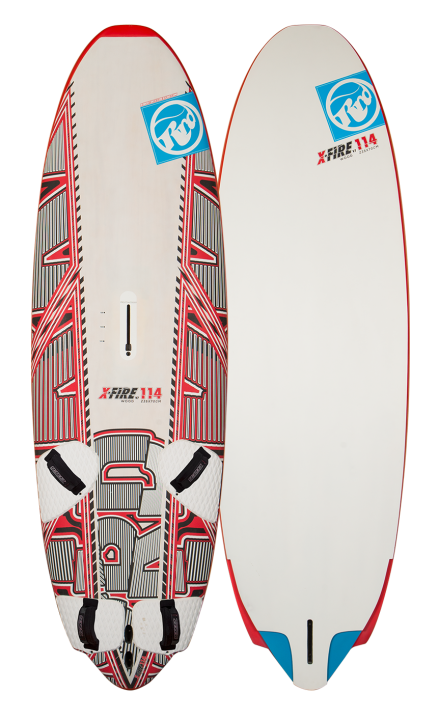 The all new X- Fire range is born from endless search for the perfect modern racing machine. Countless hours of design and testing has been put by RRD winning international team in many locations around the world. The result is another thrilling performance from the PWA world champion boards used by Antoine Albeau.
For the new series, RRD presents again 5 completely new designs. The goal of becoming faster, easier, bigger wind range and smooth tight jybing radius proved to become a huge success!
A new technology available for the world champions' boards. A specifically designed technology that incorporates a wood veneer deck and bottom, with attention to weight savings compared to classic freeride boards. The X-Fire wood boards will keep the same quality of acceleration and top end speed, becoming less fragile and with longer lifetime compared to a pure LTD version.
X-Fire, Volume , Lts. 98 105 114
Size (cms) 235 x 62 235 x 65 235 x 70
Recommended Sail Size 5.5-7.5 6.0-7.8 6.2-8.4
360 Evolution
Freeride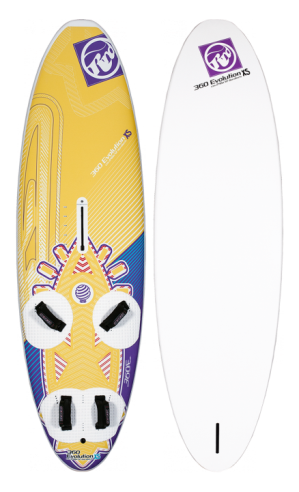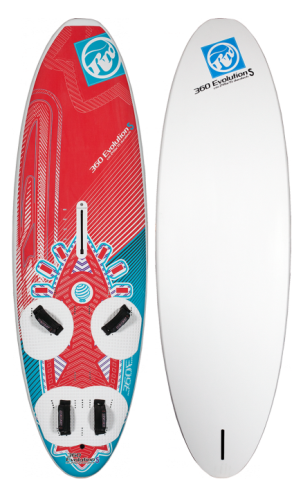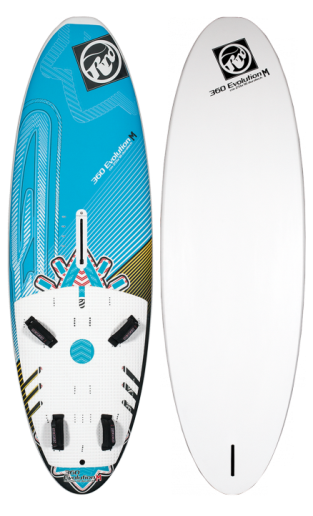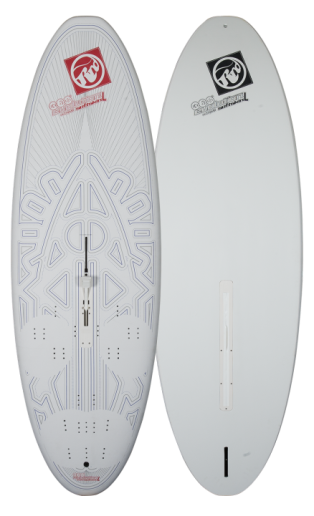 These boards mixing speed and pleasure of control with an unmatched feeling of acceleration and turning potential. "Plug and play" is the first thing that will come to your mind when placing your feet onto these decks!
The scooprocker has been flattened especially in correspondance to the mast track position in order to improve planning and reduce impact with chops. Increasing V towards the tail area, as a classic freeride board allows fantastic turns and great ease of control for your back foot. Footstraps inserts have been moved towards the middle part of the board to allow easier foot placement and maximize easier balance for a pure riding pleasure.
360 Evolution, Volume , Lts. XS. 135 S. 145 M. 155 L. 158
Size (cms) 248×72 249×75 251×78 257×81
Recommended Sail Size 4.0-7.0 4.5-7.5 5.0-8.0 1.5-8.0
Easyride Softskin
First Steps / School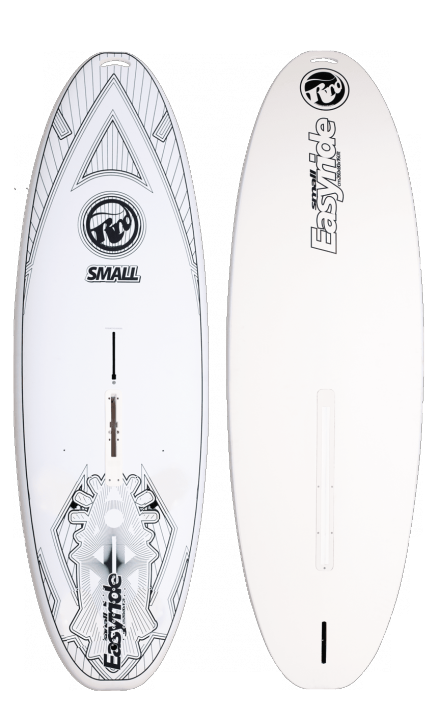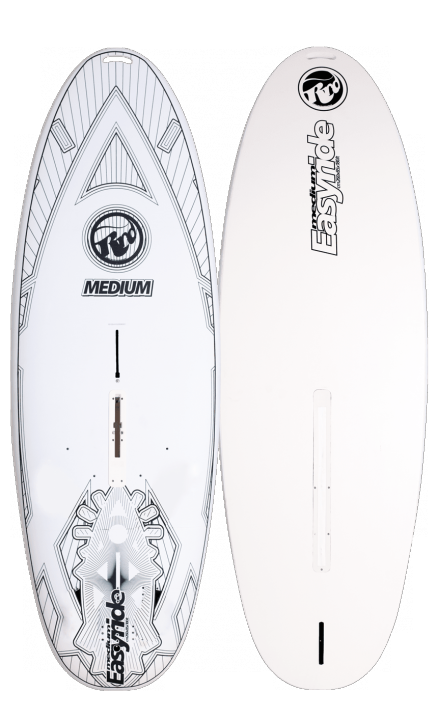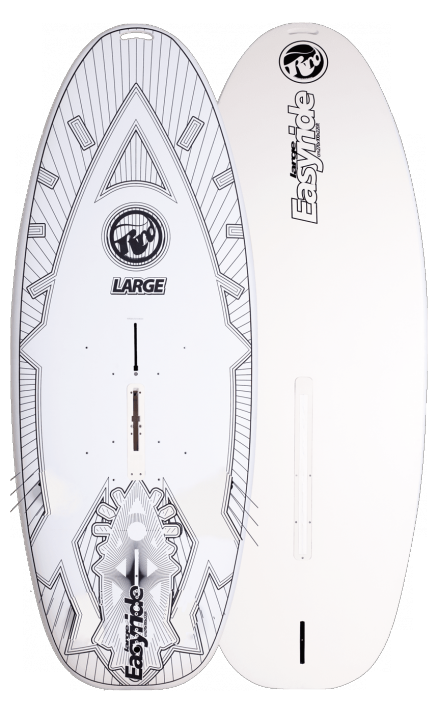 "Windsurfing in 10 minutes"
The Easy Ride boards represent the perfect set to equip any school and centre around the world. 3 size to correspond to the different weights and sailors level.
All the Easyride give you the right feeling of security through stability and soft touch under your feet. The short length and the wide outline allow to use a small sail to stir the board wherever you want even after 10 minutes of riding. They are a result of a long research and development process in making windsurfing easy for everyone!
Easy Ride, Volume , Lts. S., 166 M., 180 L., 220
Size (cms) 260×80 260×85 270×100
Recommended Sail Size 1.0-7.5 1.0-8.0 1.0-8.0
Technology Softskin Softskin Softskin
Easy Joy
Beginner Kids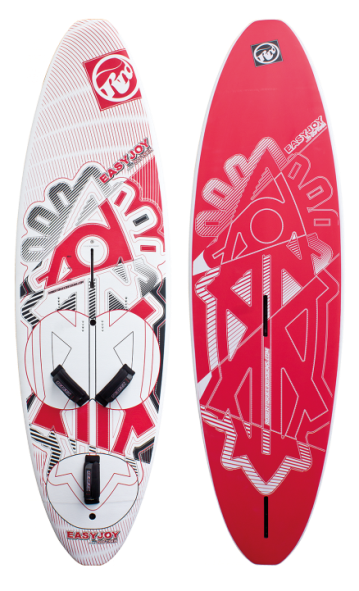 "Smile and ride"
That's how easy your kid will approach windsurfing on this board. Simply what they need. A great new balanced shape, short and wide with only 110 lts and specifically developed for the purpose of getting in the water, move and improve!
Easy Joy, Volume , Lts. 110
Size (cms) 233×67
Recommended Sail Size 1.0-6.5
Technology Softskin
Windsup
Windsurfing and Supping in one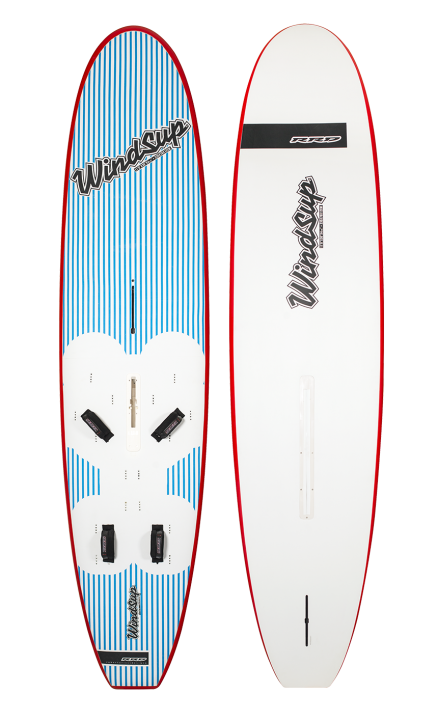 A dedicated shape for those SUPpers interested in riding the same board with a sail on or those windsurfers willing to use a paddle when the wind is not blowing. It's the right blend of length, width, rockerline and daggerboard system that will enhance the fun factor on a board that can be ridden by a whole family at the beach. Remember those days on a windsurfer where all friends were happy to try and uphaul a sail and go? Now the same feeling can be shared also when trying to sup, and this can be extended to kids and friends of all ages.
Sailing and catching small surf, cruising along a lake or see with a paddle in your hand and enjoying the view. It's all possible with this magic board.
WindSUP, Volume , Lts. 220
Size (cms) 335x76x12 cm
Airsup, Sup Sail & Rig
Windsup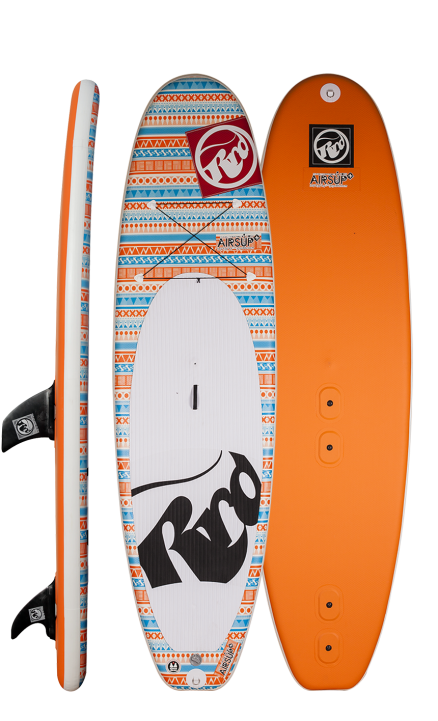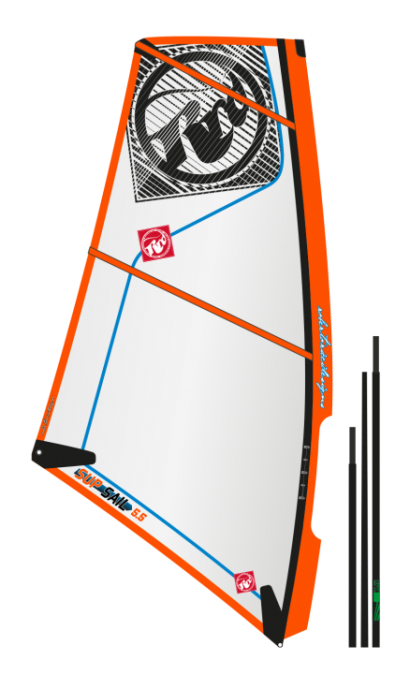 The new inflatable SUP boards program equipped with a windsurfing mast attachment hole and an innovative removable center and rear fin system that will re-write the history of windsurfing.
The boards can be used both as an SUP board or as a special inflatable windsurfboard.
Used in combination with the new SUP SAIL and RIG, each CONV PLUS+ model is now the perfect choice to discover waterports with the whole family.
The AIRSUP 10'4" CONV PLUS is the most appropriate type of SUP board to also learn how to windsurf. With its 34" of width it makes it super easy for anyone to step on, paddle or uphaul a sail. It's the most popular size for families who wish to find a board to satisfy everyone. Also available with a 6" thick profile, to enhance stiffness for heavy weights and it's an easier board to paddle or windsurf, thanks to its increased floatation.
Wassup
Allround/Convertible Ws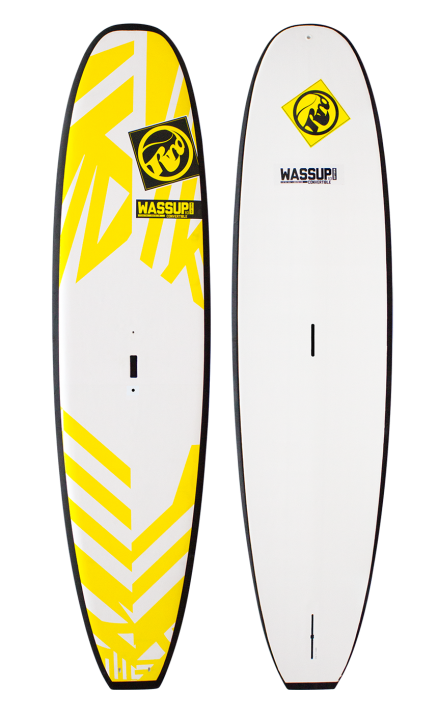 The Wassup is RRD specific development on all-round, easy to ride SUP boards. Since the introduction of this line in the market the Wassup boards are synonimous of accessible, fun supping with the additional value of a mastfoot to ride with a windsurfing sail on.
Wassup stands for "Windsurf AS SUP". The path to start riding on these great allround freeride sup boards, stable and fast to accelerate and then progressing onto the first steps to windsurfing basics is just in front of you. The best board to enjoy water at 360°.
WasSUP, Volume , Lts. 195
Size (cms) 335x78x11
Four
Wave 4 Battens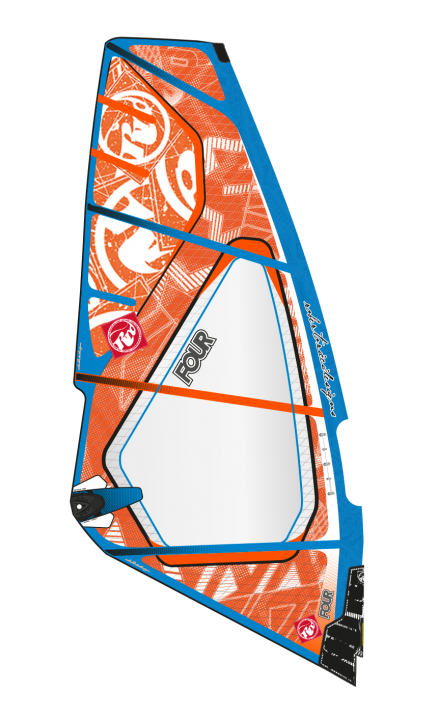 A 4 batten power sail. Low – aspect ratio and plenty of juice in the hands. This is a sail that excels in all conditions and perfectly suits a modern attack to wave sailing. Plenty of drive and plenty of power to keep you going through everything. Whether it's on the wave or in the air, the powerful compact foil of the Four gives you huge amounts of drive and response.
Move
Freewave / Wave onshore

The Move transformed the lives of the freestyle wave and free move rider. With a sail line that
morphs from a 6 batten racey blaster, to a 5 batten throw-about ripper, this is a line that will satisfy
every riders desire to have fun on the water.
Style Pro
Freestyle Pro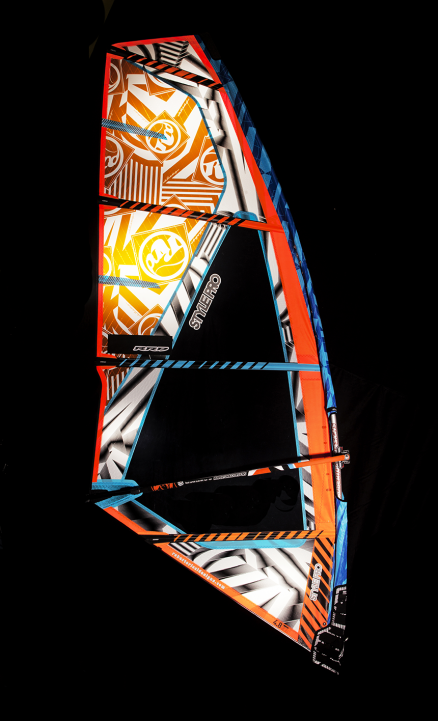 Mixing amazing control, with huge amounts of usable power, the Style Pro continues to make the
impossible, possible. This is a sail for the pure freestyler. Whether it's your first Vulcan or working on
the latest combo trick, this sail guides you through the moves with ease.
Fire
No Cam Freerace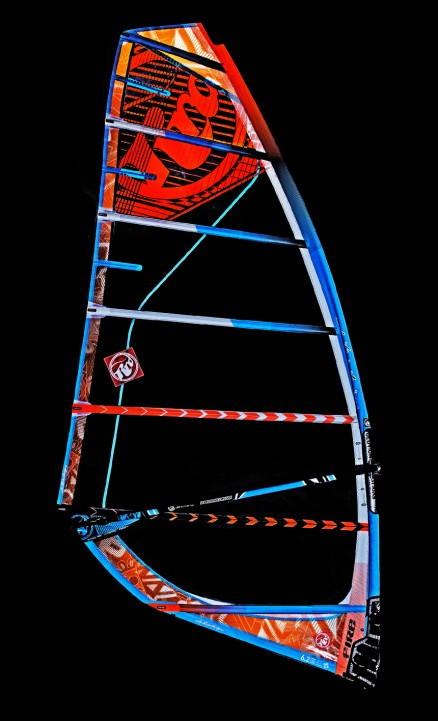 Speed, control and easy handling; These are the key ingredients in the RRD no cambered free race
sail. Whether its on a free race board or a full power slalom board, the Fire will give you an easy ride
to the fastest speeds of your life. 7 battens act perfectly to make the sail incredibly stable and
controllable, especially in the top end, whilst a full profile maintain good acceleration at the bottom
end. A relatively short luff length together with an aggressive clew cut away keep the sail feeling very
compact in your hands, aiding control and making fast power gybes with ease.
Firewing
Slalom / Racing 3 Cams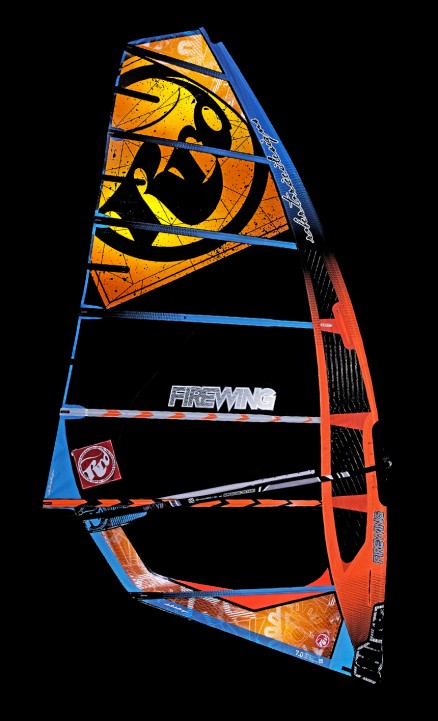 3 cam freerace sail, mixing all the performance of thorough bred race sail into an easy to use
and forgiving package. Whether its around a slalom course, a GPS speed run, or just trying to get past
your mates, this sail makes it as easy as possible to get the advantage. Non-stop development has helped
push this sail to new levels. Through constant testing of both the sails and the masts, we have been able
to push the performance of the sail to new levels. Better stability, better acceleration and an even
higher top end. However this has all been achieved without taking away anything from the easy to use feel
of the sail. Whether its rigging the sail, gybing the sail, or working to get the last knot of speed from
your gear, the Firewing takes your sailing to warp speed.
X-Tra
Entry Level Freeride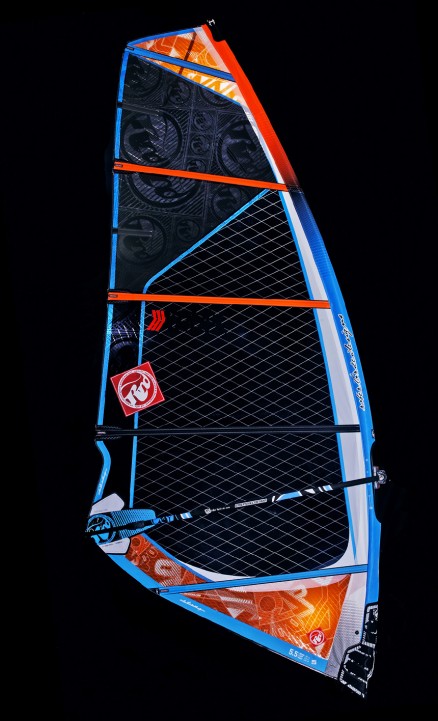 New line for RRD, combining style and performance with a great price, to give a fantastic
freeride sail for every level. From beginner to advanced this sail offers unbeatable price/performance
ratio. The Xtra is designed to provide great acceleration and early planning. Just sheet the sail in and
go. The perfect accompaniment to larger freeride boards, but also a sail that you will never out grow.
Learn with the Xtra, improve with the Xtra and advance with the Xtra.
Easy Ride
School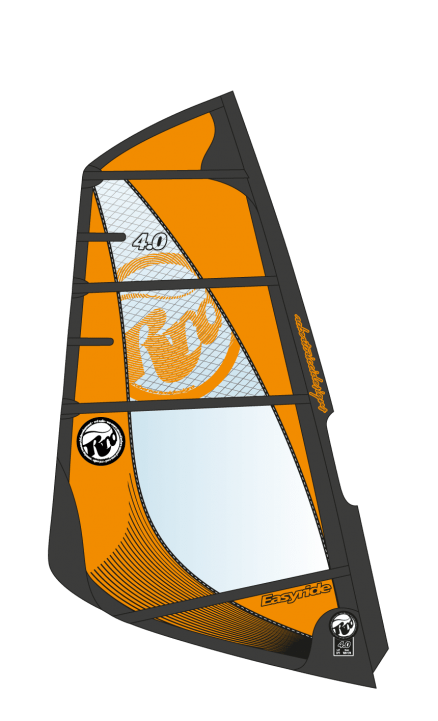 Re-designed with slightly more luff curve and less head twist, the easy ride offers a perfect
great package of balance and easy to be uphauled type of sails that you must have in your school.
Developed specifically for beginners and schools, the Easyride sail is simple and light. It features a
special foot design that simplifies uphauling and reduces friction with the board deck. A special luff
curve to minimize the effort in downhauling and rigging.
Also at all our centres you can buy used equipment at reasonable price. New RRD boards & sails you can buy in our shop in RRD-Russia. Prices and full description you can find on-line at RRD-Russia web page.