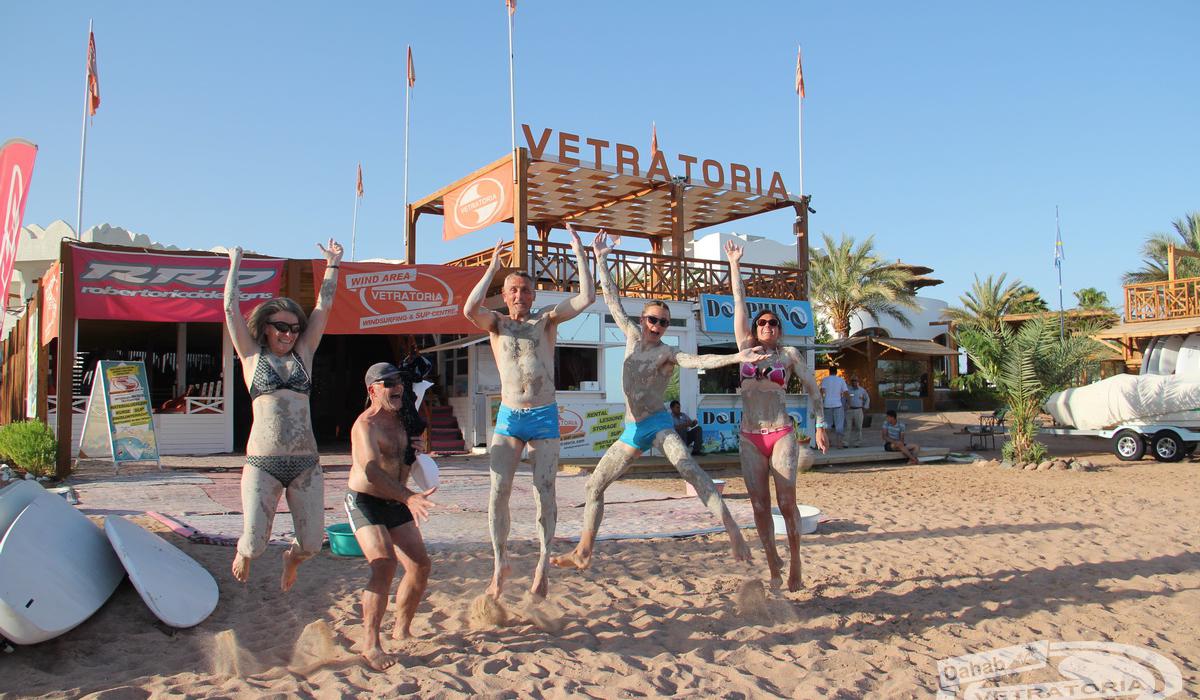 Recently we post a message on our Facebook page about "Mud Lake". Some people afterwards visit this place and now it's time to unhide it to everybody. Visiting it will take long time from you, but it is good alternative to be busy in no-windy day.
Mud Lake is famous with its blue clay (same like on Dead Sea) and is very popular among the local population as well as among Europeans. And, most importantly, it is step available from our centre!
Maybe you mentioned that skin on local windsurfers who lives in Dahab do not have any acne, wrinkles and they are with ideal suntan? You agree, it can be only in fashion magazine, but how people in Dahab can look same? If you would ask any windsurfer in Dahab how it is possible- they will tell you for sure about healthy food and regular sport activity on a fresh air. But it isn't.
All true is in a magic lake, which is step available from our centre! In this lake on a bottom you can find medical mud which is very common to the mud in the Dead Sea. Local Bedouin tribes keep this place in a secret, but we easily share its location with you. It is just behind Baby Bay at the end of Speedy zone.
So, that this mud can do accordingly to popular belief:
- Beneficial for the skin and body
-clean and refresh skin
-nourish skin
-helps with acne and skin diseases
- relieve pain from joints
- effective in improving the skin's natural processes, easing rheumatic pains, relaxing muscles and providing inner calmness and tranquility after sailing in a strong wind
How to use it?
-proper mud is dark-grey color with blue shines. It should be sticky, soft and elastic
-apply mud with a thick layer and let it dry, then rinse off thoroughly with warm water. Better to use fresh water when you are back to centre.
-Mud you are not willing to use please keep back to the lake, because amount of it is limited.
Stay healthy and see you on the water! Stay tuned. Your Vetratoria windsurfing & SUP team